Additional Services at Cooper Family and Pediatric Chiropractic
Cranial Sacral Therapy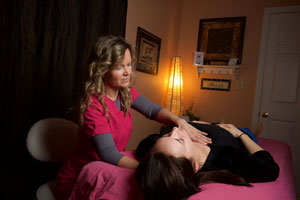 When people speak of cranial sacral therapy they often refer to it as a "baby massage." This therapy is a soft hands-on gentle technique in which the chiropractor holds the muscles until they relax.
This is most often used on infants to perfect head shape. Cranial sacral therapy will also help remedy any of the following conditions afflicting your child: reflux, latching issues with breast-feeding, difficulty sleeping and more.
Cranial sacral therapy requires minimally, approximately, six visits of treatment.
---
Cooper Family and Pediatric Chiropractic Additional Services | (317) 853-6666